PCD Pharma Franchise in Haryana – Genuine pharmaceutical drugs for pharma franchise and PCD pharma franchise in India are available at Alisier Drugs. Our company is a top pharma franchise company in India to bring you PCD pharma franchise in Haryana. We are one of the best pharma companies in Haryana to bring you best business opportunities in north India. We have more than 300+ drug formulations that offer quality results.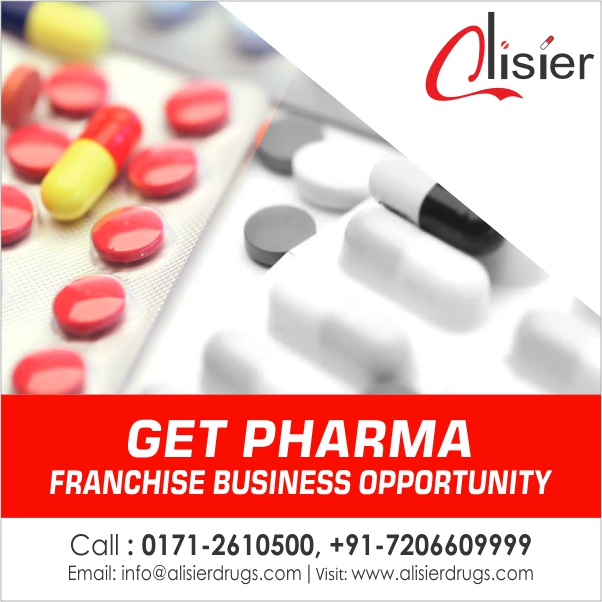 The pharmaceuticals business is growing in Haryana with greater demand rising with each passing year. Alisier Drugs has 300+ medicines range covering segments which are available for franchise. We have adopted fair price policy. The whole manufacturing takes place in GMP-WHO units that are situated in excise free zones. PCD pharma franchise in Haryana by Alisier Drugs is the best way to start your own venture. We bring you multiple benefits sacked in one franchise deal. Our products list is DCGI approved that covers tablets, capsules, injection medicines, syrups, powders, ointments etc. If you want to talk to us you can call us at 7206609999, 0171-2610500 or simply email us at info@alisierdrugs.com for queries.
Collaborate With Best Pharma Franchise Company in Haryana – Alisier Drugs
An ISO certified Pharma Company, Alisier Drugs is based in Haryana. We are situated in the industrial town Ambala which brings a whole new world of quality drug formulations. Our company has served with best pharma marketing services in India. We are an eminent name in north India. we have pledged to provide drugs that meet the requirements of the patients. More than 300+ drugs have been owned by the company and offered to the associates at best rates.
Alisier Drugs is a known name when it comes to pharma manufacturing services in India. We have our own set of units that are situated in excise duty-free zones. The cost-effective drug production makes the quotation prices genuine. The medicines are made in compliance with quality control measurements followed by us. They have been developed, processed and tested under the guidance of experts. Skilled and experienced experts are there to help us gain better quality drug formulations. We are the best company to choose for the franchise in Haryana at best investment plans.
Best Business Destination for PCD Pharma Franchise Business – Haryana
North Indian state Haryana has a wide scope for franchise business owner. It is situated in close proximity to pharma hub Baddi and Chandigarh. The pharmaceutical industry has grown a lot in Haryana. The economy is good here and healthcare facilities are improving with each year. With each passing year, the healthcare facilities and services in this sector are improving. The people are getting more conscious about the better healthcare, medical and wellness services that they are getting. On the other hand, they are willing to spend on quality medicines and products for better results. Sports medicines and nutraceuticals have high demand in Haryana which adds to benefits for those who want to establish themselves as franchise owners in the northern state, Haryana.
Franchise Opportunity in Northern State Haryana at Alisier Drugs
Our company has made full arrangements for those who want to start their venture in the north region. we are offering wide space and better business opportunities here in Haryana. Alisier Drugs is based in Haryana and you will be getting access to direct services and solution from the company. The pharma marketing agreements bring you better solution and access to the market. We are offering business in all the major locations of Haryana that will help you establish as franchise businessmen. Here are the following places where we are offering business:
Ambala: Ambala, Kurukshetra, Panchkula, Yamuna Nagar
Gurgaon: Gurgaon, Mahendragarh, Rewari,
Hisar: Fatehabad, Jind, Hisar, Sirsa,
Faridabad: Faridabad, Palwal, Nuh
Karnal: Karnal, Panipat, Kaithal
Rohtak: Jhajjar, Charkhi Dadri, Rohtak, Sonipat, Bhiwani
Our company welcomes everyone who is interested in our business plan. Our company will be happy to have you as our member in this beautiful state. If you are searching for good deals and offers then Alisier Drugs is the best to collaborate for the franchise.
Why Choose Alisier Drugs' Top Pharma Franchise Company in India?
We are the best pharma company in Haryana which brings you better business deals in India. Our company has more than 250+ associates who are working in good strength with us. We are steadily making our move to being the top in the nation. We, Alisier Drugs as a franchise marketing company has created good goodwill and have a trustworthy name in the market. When you become a member of our company, you welcome loads of benefits. Take a look at a few o the following:
You will be supported with marketing through promotional tool support.
Our company will give you regular medical updates.
genuine sales target and earn good incentives for achieving it.
The ROI is good when you collaborate with Alisier Drugs.
Name: Alisier Drugs Contact Information
Address: Cabin no 3-4, Gupta complex,
Kuldeep Nagar, Ambala Cantt-133001 (Haryana) India
Call Us: 7206609999, 0171-2610500
Email: info@alisierdrugs.com