PCD Pharma Franchise in Gujarat – Alisier Drugs' top pharma franchise company in India invites all pharma people to become a part of genuine monopoly pharma franchise and PCD pharma franchise. Our PCD pharma franchise in Gujarat makes available 500+ ranges of medicines. We have successfully covered multiple healthcare segments and we individually provide franchise for the same also. These include gynecology medicines, dermatology medicines, ayurvedic medicines, pediatric medicines etc.
Our products list consists of drug formulations that are certified with DCGI. They have been formulated and developed by skilled pharmacists and experts. We want our customers to get the quality range. Alisier Drugs has been amongst the best pharma manufacturers and suppliers in India that offer quite qualitative and genuine drug formulations. We have our own set of manufacturing units situated in tax holiday destination. The cost-effective manufacturing makes our products list genuine. Come become a part of our PCD pharma franchise in Gujarat for better deals and business opportunities.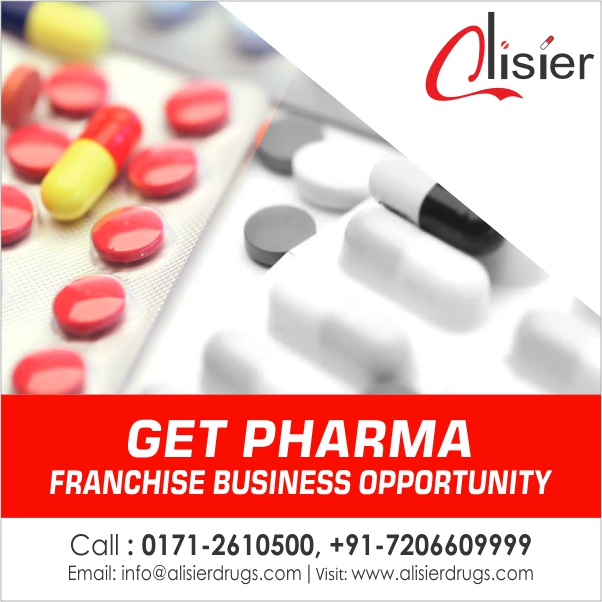 You can have a direct conversation with by calling at 7206609999, 0171-2610500. Our representatives will provide all the information that you require. We promise to provide you with genuine plans, attractive promotional tools, incentive schemes, better scope and offers if you become our members in Gujarat state.
Collaborate with Alisier Drugs' Top Pharma Franchise Company in Gujarat
Our company is Haryana based company that has rooted itself in multiple states through pharma marketing services. We have a wide customer base in Gujarat making us the best pharma company in Gujarat. Our company is an eminent pharma manufacturer and supplier that formulates, develops, manufactures and markets different drug formulations. We have been offering a vast range of options when it comes to medicines and pharma drugs. You will be getting 300+ ranges of medicines from multiple segments like gynecology, dental, cardiovascular, pediatric, dermatology etc.
Alisier Drugs has maintained professionalism when it comes to business. Our ethical ways have gained the trust of customers and associates. More than 250+ associates are connected with us through franchise business opportunities. There are various health professionals from Gujarat who are connected with us. Our company aims at maximizing healthcare systems through better quality drugs. We totally understand your need for better scope and business in near future. Alisier Drugs is the best pharma Company in Gujarat to provide you complete solutions for monopoly pharma franchise in Gujarat.
Why Choose PCD Pharma Franchise Business in Gujarat?
Gujarat is a beautiful state of India. The state has been enjoying quite lavish pharmaceuticals industry statistics. It is one of the tax haven locations. The rollout of GST has helped make the state a better location for all pharma businessmen. The healthcare sector is blooming. The people of Gujarat understand the value of good healthcare and medicinal needs. They are willing to spend on quality medicines. This a positive sign for all those who want to start a franchise business. You just need to connect with the best company.
Alisier Drugs is the best in Gujarat. Here are the benefits of starting a franchise business our company:
Our company is providing good solutions for franchise member at genuine investment plans.
The profit margin is quite attractive.
Marketing and promotional support are provided to all members.
The sales targets are genuine.
Monopoly rights distribution to the allotted area.
The wide area will be allotted to you.
PCD Franchise Business Opportunities in Gujarat with Alisier Drugs
You are most welcome at Alisier Drugs! Our company is offerings its business opportunities in the given locations of Gujarat state. If you are living in Gujarat or looking for genuine business opportunities in Gujarat then Alisier Drugs gives you the opportunity to start your own venture. Here are the districts of Gujarat that are beings offered for the franchise on a monopoly basis.
South Gujarat: Bharuch, Dang, Narmada, Navsari, Surat, Tapi, Valsad
North Gujarat: Aravalli, Banaskantha, Gandhinagar, Mehsana, Patan, Sabarkantha
Central Gujarat: Ahmedabad, Anand, Chhota Udaipur, Dahod, Kheda, Mahisagar, Panchmahal, Vadodara
Saurashtra – Kutch: Amreli, Bhavnagar, Botad, Devbhoomi Dwarka, Gir Somnath, Jamnagar, Junagadh, Kachchh, Morbi, Porbandar, Rajkot, Surendranagar
Quality Pharmaceuticals Medicines for Pharma Franchise
We have covered different markets for the franchise. These include gastro, hepatic, gynecology, nutraceuticals, pediatric, ophthalmic, dermatology etc. the products list contains more than 300+ ranges which are DCGI approved. Here are the formulations drug dosages that we provide:
Capsules
Syrups
Caplets
Tablets
Injection Medicines
Soft Gelatin capsules
Sachets
Powders
Creams + Ointments etc.
Our company invites all those who are interested in our business dealerships in Gujarat. If you want to become a franchise member of our company then you are most welcome.
Contact Information
Name: Alisier Drugs
Address: Cabin no 3-4, Gupta complex,
Kuldeep Nagar, Ambala Cantt-133001 (Haryana) India
Call Us: 7206609999, 0171-2610500
Email: info@alisierdrugs.com